Healthcare Executive, Alabama Native Vickie Demers Named New CEO of Andalusia Health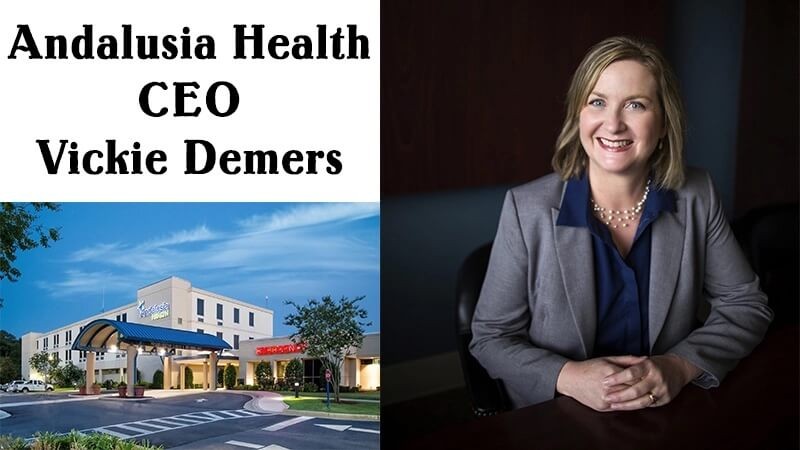 ANDALUSIA, Alabama (April 10, 2023) – Andalusia Health announced today that Vickie Demers, a healthcare executive who has led hospitals in Alabama and West Virginia, has been named the hospital's new Chief Executive Officer (CEO). Demers' first day as CEO will be May 17. She will replace Rob Marshall, who has served as interim CEO at Andalusia since the fall of 2022.
"I'm excited to join the skilled, compassionate team at Andalusia Health and continue our hospital's mission to advance the health and well-being of this community," said Demers. "This opportunity gives me the chance to lead another outstanding facility, continue to be a part of the ScionHealth family of hospitals, and return to Alabama, where I have many friends and family. I'm looking forward to getting to know our team, our hospital, and the Andalusia community."
"During her most recent tenure at Logan Regional Medical Center, Vickie and her team made enormous progress in modernizing and growing specialized services to best meet the needs of the surrounding community," said Robert Wampler, President of Community Hospitals for ScionHealth, the parent company of Andalusia Health and Logan Regional. "While managing the hospital's operations, for instance, she helped the facility reduce patients' average length of stay, add telemedicine services to reduce transfers and improve patient outcomes, and integrate several new technologies to ensure patients received the best care possible. We expect that Vickie's leadership will make a similar, positive impact on Andalusia's services as well as its patient outcomes and experiences."
Demers served as COO of Logan Regional Medical Center since 2019, sandwiched around a five-month stint in 2021 as interim CEO of the hospital. Prior to Logan Regional, she served one year as interim CEO of Raleigh General Hospital, a 300-bed facility in Beckley, West Virginia. From 2014-2018, Demers was CEO of Lakeshore Rehabilitation Hospital, a 100-bed inpatient rehabilitation facility in Birmingham, Alabama. From 2008-2014, she was CEO of MountainView Regional Rehabilitation Hospital in Morgantown, West Virginia. She also worked at Health Management Associates from 2002-2008 and at Sunlink Health Systems from 1998-2002.
She earned a Master of Health Administration from Georgia State University, a Master of Business Administration from Georgia State University, and a Bachelor of Science in Pre-Medicine from Bob Jones University.
According to Terry Powell, chair of Andalusia Health's board of trustees, Demers' work history as a hospital executive shows significant successes in improving patient outcomes, growing hospital volumes, and enhancing service lines ‒ accomplishments that make her an ideal candidate to lead Andalusia.
"Vickie checks all of the right boxes," he said. "Her track record of success at other hospitals gives us great confidence that she can lead Andalusia Health forward. She seems to get things done, whether that's adding essential medical technologies to strengthen a service line, managing through exceptional challenges such as COVID, or collaborating with her teams to make a lasting, positive impact on hospital operations."
A part of the ScionHealth healthcare network, Andalusia Health is a Joint Commission-accredited, 88-bed acute care facility that has served the heart of South Alabama since 1966. The hospital offers a wide range of diagnostic, therapeutic, emergency, and surgical services. Comprehensive Cancer Care is available on Andalusia Health's Campus with services provided by 21st Century Oncology offering Radiation Oncology and Sacred Heart Oncology offering Chemotherapy and infusion services.
Read All Posts